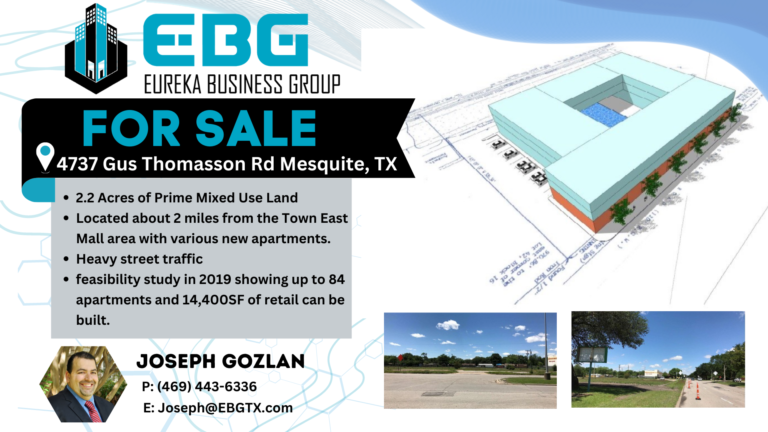 Listing #445915: Mixed Use Commercial Land
Introducing an exceptional opportunity to own mixed-use commercial land located in the vibrant city of Mesquite, TX. This prime land spans across 2.2AC, offering limitless possibilities for a wide range of development options.
Located just 2 miles away from the Town East Mall area, this land enjoys a developing location that's sure to attract new residents and businesses. With various new apartments nearby, this area is experiencing a surge in demand for new retail and housing developments.
CallisonRTKL Architecture firm conducted a feasibility study in 2019, which showed that up to 84 apartments and 14,400SF of retail space can be built on this land. Other feasibility study options show 72 apartments and 14,400SF of retail, or other townhomes/apartments/retail combinations. The possibilities are endless, and this land is ready for your creative vision.
This mixed-use commercial land is the perfect opportunity for developers looking to take advantage of the growing demand for retail and housing in the Mesquite area. With its prime location, ample acreage, and limitless potential, this land is sure to provide an exceptional return on investment.
Conversations we've had recently with the city EDC manager showed the city is very interested in getting the area developed and are willing to work with developers on adjusting the zoning and even provide funding to some projects.
Don't miss out on this rare chance to make your mark in the dynamic city of Mesquite, TX. Contact us today to schedule a viewing and discover how this mixed-use commercial land can help you achieve your development goals.
Didn't find what you were looking for? Fill out our Buyer Profile form and we will add you to buyers list and will notify you when we have a property that fits you requirements.