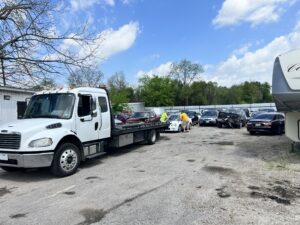 Turnkey Towing Company Multiple Income Streams, Established Management Team, Huge Potential Upside!
For experienced business buyers who are seeking high-value businesses, this towing company is an excellent investment opportunity. With a strong reputation in the Killeen, TX area, this company built a loyal customer base that values reliability, efficiency, and commitment to excellent service.
Their extensive fleet of trucks and heavy machinery, coupled with the specialty equipment and gear, positioned them as THE leader in the regional towing industry. And with multiple revenue streams, this business have a diversified business model to ensure long-term stability and profitability.
Established relationships and contracts with local authorities provides this company a steady flow of business, ensuring that they remain an indispensable partner in the community. With five physical locations strategically positioned throughout the area, they are included in multiple rotations and are well-positioned to capture even more business in the future.
Furthermore, this towing company presents a unique opportunity for experienced business buyers to capitalize on a company with untapped potential. With no sales team and no repo work, there is ample opportunity for growth and expansion, and with the opportunity to secure a high-leverage SBA loan, the potential upside is substantial.
The current owner is looking to shift his focus to another business venture, providing a unique opportunity for an experienced business buyer to step in and take over an established and profitable company with a management team already in place.
This presents a significant advantage for those seeking a semi-absentee business model, as you can trust in the experience and capabilities of the existing management team to continue driving the business forward while you focus on other endeavors.
Overall, this towing company represents an outstanding investment opportunity for experienced business buyers seeking a high-value, semi-absentee business with strong fundamentals, diversified revenue streams, untapped potential for growth and expansion, and an established management team in place. Contact us today to learn more about this exciting opportunity.
Fill the form to the left for the Full Listing Package